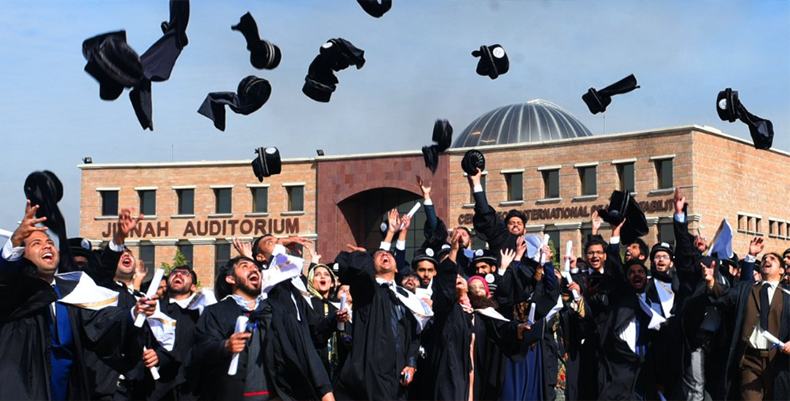 Convocation Ceremony for graduating students of School of Mechanical & Manufacturing Engineering (SMME) will be held as per following schedule to confer Degrees / Certificates / Medals upon UG/PG/PhD graduates: –
Convocation
Description
Date
Time
Venue

Convocation Opening Session for PhDs and following medal winners:

MS President Gold Medalists
UG President Gold Medalists
UG Chancellors Silver Medalists

Rehearsal Day
22 Oct, 2023
0900 Hrs
Jinnah Auditorium, NUST, Sector H-12, Islamabad
Convocation Day
23 Oct, 2023
0900 Hrs
Jinnah Auditorium, NUST, Sector H-12, Islamabad
SMME Convocation for award of Rector's Gold Medal (FYP) and degrees to remaining MS and UG Students
Full Dress Rehearsal / Collection of Gowns/ Caps
24 Oct, 2023
1430 to 2000 Hrs
SMME Seminar Hall, NUST Sector H-12, Islamabad
Convocation Day
25 Oct, 2023
1330 Hrs
Jinnah Auditorium, NUST, Sector H-12, Islamabad
Note: Attendance of graduates in Rehearsal is mandatory. Students not attending the rehearsal WILL NOT be allowed to participate in final convocation.
Following graduates of SMME are included: –
UG Mechanical Engineering
2019 Batch​
MS/PhD Mechanical Engineering

MS: 2019/20/21 Batches

PhD: 2015/16/17/18/19 Batches

MS/PhD Design and Manufacturing Engineering
MS/PhD Robotics and Intelligent Machine Engineering
MS/PhD Biomedical Engineering
MS/PhD Biomedical Sciences
All graduating students must confirm their willingness by filling registration form latest by 30th Sep, 2023 through the registration form available on following link: https://forms.gle/6Ca9KDdUpmr4jKqAA
Each graduating student is required to deposit prescribed fee mentioned below in HBL NUST Account No 22927000598803, Account Title: NUST SMME Consultancy Fund as Convocation fee through Bank Deposit Slip/ Online Transfer, latest by 30th Sep, 2023, and filling of above mentioned online registration form. Details of funds transfer (scanned/photo) of deposit slip/ details of online transfer to be uploaded on online registration form.
Registration fee
Convocation Opening Session for PhD and MS/UG Award Winners Only:
| | |
| --- | --- |
| Registration Fee with 2 Guests | Rs 3500 |
| PhD and Award winners' UG/MS students desirous to Participate in SMME Convocation as well, will not be allowed to appear on stage for degree receiving but will be part of group photograph with their batch and will deposit additional Rs 1000 per person. |   |
| If attending alone, total amount to be deposited for both convocations | Rs 4500 |
| If attending with one guest, total amount to be deposited  for both convocations | Rs 5500 |
| If attending with two guests, total amount to be deposited for both convocations | Rs 6500 |
SMME Convocation for award of award of Rector's Gold Medal (FYP) and degrees to remaining MS and UG Students
Convocation Registration Fee with 2 Guests
Rs 3500

Convocation Registration Fee with 3 Guests for SMME convocation only

(Additional Rs 1500 for 3rd Guest)

Rs 5000
All those participating/attending the convocation ceremony, must bring original CNIC. Invitation Card will be issued on 22 Oct, 2023 at 0900 hrs for Convocation Opening Session and on 24 Oct, 2023 after full dress rehearsal/issuance of gowns for school convocation of remaining PG and UG graduates and best FYP team.
Instructions for Graduates attending Convocation
Incomplete Registration Form will not be accepted.
2 x Guests are allowed; 3rd guest is optional for School convocation only with an additional amount of Rs 1500/-
No guest under the age of 12 years will be permitted entry into the Convocation Hall
PhD Graduates & Medal Awardees eligible for Convocation Opening Session are required to report to NUST Jinnah Auditorium, H-12, Islamabad, on 22 Oct, 2023, at 0900 hrs for full dress rehearsals, and at 0900 hrs on 23 Oct, 2023 for the Convocation.
All remaining graduates (UG/MS) and best FYP team are required to report SMME NUST for full dress/ collection of Gown/Hood/Cap on 24 Oct, 2023 at 1430 hrs and on 25 Oct, 2023 for Convocation at 1330 hrs.
Please ensure the following: –
Entry to the Hall will not be allowed without invitation cardand original CNIC.
Dress code for the convocation will be: –
Male:Dark color Lounge suit with tie/closed collar/ National Dress.
Female:Decent dress of sober color.
Gowns, Hoods and Caps will be hired from the contractor and issued on rent. You are required to bring sufficient cash with you for security deposit and rent. Approximate details of charges are given below. Security deposit will be refunded on the same day after the graduation ceremony on return of Gown, Hood and Cap.
Gown, Hood & Cap Security
Rs 3000/- (Refundable)
Gown, Hood & Cap Rent
Rs 450/- (Non-refundable)
04 Photographs with soft copy (Photo size 8 × 12)
Rs 1500/- (Optional)

Hostel Charges:

Hostel can be provided to graduating student only for one night stay. Facility will be provided to Student will provide input in online convocation registration form. Provided request is communicated during online registration process

On actual charges (Charges will be conveyed by Hostel Branch)
Note: Rs 200 per day will be charged additional from third day onwards as fine, if Gown/Cap are not deposited back after Convocation day.
Please note that returning of Gown, Hood & Cap is pre-requisite for receiving original degree from Exam Cell, SMME.
Invitation cards for graduates will be handed over to the graduates after full dress rehearsal/ issuance of gowns.
Cell phones / cameras / electronic devices, laptop, handbags, or any other electronic gadget will not be allowed in the Convocation Hall.
Graduates will enter NUST through Gate No. 01 & Gate No. 02
Contact person for photographs is Mr G R Khan, Contact No: 051-9085-1373
All graduating students are required to keep checking their emails and SMME website for any updates/changes in dates, timings etc.
E-mail address and contact telephone number for any query:
SMME
Phone: 051-9085-6014
E-mail: [email protected]
​